HAPPY NEW YEAR PROMOTION!
Get RM 10 Off For Your UiTM Sweater
Enter Coupon Code : HNY19
Hurry! Limited For 30 pcs Only
Visit https://t.co/HqVMTHITBq to find out more. pic.twitter.com/Q269PjntBC

— Made in UiTM (@madeinuitm) January 1, 2019
Whether you are in middle school or graduating college (or anywhere in life), follow these 11 steps and your presentation will be received with a standing ovation.
1. Don't Read
Powerpoint was created to show bullets and short text. The purpose of your written words are to act as a trigger; they get you talking about each point. The rest should come from you. Spend the time choosing your keywords and not writing descriptions.
2. Preparation Equals Confidence
You need to research and understand your topic  in order to find something about your topic that you can connect to; Unfortunately, Powerpoint and slideshows in general, make people believe that throwing a bunch of words onto a slide is all that matters. But, If you don't know the general information without cues, the audience will likely to be bored. KNOWING YOUR CONTENT is the best pre-game confidence booster!
3. Let Images Take Over Your Screen
 Images are powerful. Instead of using bullets on each slide or pictures to emphasize your point, you can take up the whole screen with a strong or even controversial scene. Are you making a presentation on foreign language, show a confused tourist in Paris! Are you speaking about technology in third world countries?
4. Look em' in the Eyes!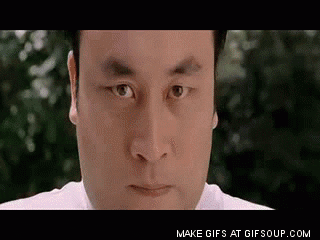 Don't talk at people talk to them. Look at the students in the front row, in the middle row and at the back. You don't have to consciously remember this;  just integrate eye contact into your presentation by moving around. Pacing a bit or changing sides will naturally move your eyes to different areas of the room.  Stop in the middle of the presentation and ask a question, look around at those who answer or agree/ disagree. FYI: focusing all your attention on the decision maker (i.e. professor, teacher, investor) is a big mistake – You'll get an A if you delivered your message effectively, not by selling to the teacher.
5. Take a Pause, Prevent 'Ummmm…'
If you get stuck or nervous in the middle of your presentation, saying "um" or "Ah" feels good because it fills the silent room. There are 2 quick fixes: Talk slower and add pauses for emphasis.
6. Make 'em Laugh
Being professional and informative does not mean you can't be fun! We all know humor makes everything lighter and better! And there is almost always a way to fit in into any presentation.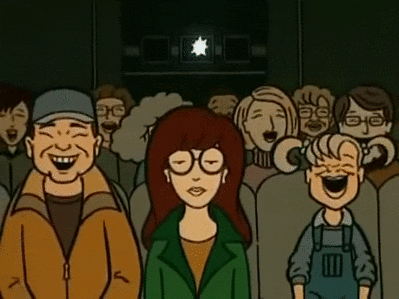 7. Tell a Story
We listen to people when we connect to them and we connect to them through telling stories. Why?  Because telling stories builds trust. You are sharing a part of you that you may not necessarily share with everyone. A personal story is the fastest way to build trust, show you are human and stir emotion. The emotion can be laughter, sadness or tears, it doesn't matter, by conveying your your message through a narration you have paved the way for any subject or topic.
8. How to Pick the Story You Tell
Pick a story your audience can relate to; If you are marketing a product or advertising a service this can be difficult, but luckily you are presenting to fellow students!  So put yourself in their shoes. For instance, if you are presenting to college students, what do they like, what do they fear, to list a few now: College is when you are on your own, when you fall in love, when you gain the junior's journey' or join your first gym. You learn about what subjects make you passionate and how exams can steal your sleep.  How do one of these experiences connect to your presentation topic?
9. Aristotle's Golden Rule of Three
This trick is taught to college freshman in business 101, Aristotle stated it simply in his book  'Rhetoric': After learning something new, people tend to remember three things. That means that your  audience members will take away three important points from your 10 or 15 minute presentation. So don't stress on the finer details. Of course, it is important to have the right data, but you goal is simple – educate the audience on a new idea, a solution or  the main research of your topic, not the fine print. You should repeat the main ideas throughout your presentation so that the important points stick!
10. Arrive Early with Technical Backup
The best way to avoid a bad situation is to take preventative measures. Check your presentation software that morning, make a backup, upload it to dropbox and bring an mp3. then make ANOTHER BACKUP. When you arrive to the class check that all technical items, such as computer and projector hook up and work efficiently. This step does wonders to relieve speaking anxiety!
11.Own it, Pride and Apologies
You may not be the researcher who came up with the stats but you took a topic, organized it, and summarized the data… be proud.  If an audience member or professor point out a mistake or ask a question you are unsure of – own it! Apologize if you are incorrect and praise the questioner! You can say "wow, you make a good point, Thank you , I just learned something new" or " Great question, I'm not sure of the answer I'll look it up later and get back to you the results." Confidence and humility taste better than peanut butter and Jelly (well, it's pretty close).
There you have it, just follow these 11 killer presentations tips and you will surely be the student that stands out! And by the way, the takeaway from the soap presentation was that too much cleanliness can actually make us sick… that message was presented so well, it has stuck with me ever since!
What's you favorite tip? Do have any additional presentation tricks that have worked for you!? We'd love to hear about it in the comments below!
Zip Up Hoodie. Now comes with more colors. Perfect for Convocation gift ! Register & get 10% off for every item purchased when you register at https://t.co/VXeEKdI1qO pic.twitter.com/XQM2sBDLSi

— Made in UiTM (@madeinuitm) October 17, 2018